Kneipp & Health
Kneip wading in the spa gardens of the health resort, Brilon
Kneipp medicine is based on five pillars for health promotion: In hydrotherapy, the element of water is used in the form of Kneipp waterfalls and water treading. Nutrition therapy is dedicated to the health-promoting effect of a balanced diet.
Exercise therapy focuses on sufficient physical activity. Phytotherapy uses the healing power of plants. The order therapy should support a permanently health-conscious way of life.
The spa gardens of Brilon, which are directly adjacent to our hotel, offer the opportunity to get to know Kneipp medicine through various stations or to intensify your previous experience. Since the year 2000, Brilon has been a recognised Kneipp spa and since 2016 a recognised Kneipp spa and has a wide range of health facilities at its disposal.
The Kneipp spas Brilon and Olsberg now belong to the 'Top Spa Resorts 2018' after an evaluation and are listed in the spa list of Focus Magazine.
$
Kneipp spa
$
Arm pool
$
Herbal tour
In the sense of hydrotherapy, a Kneipp facility with two wading pools and one arm pool is available to you in the spa park. In the summer months between June and August, when the weather is fine, the Kneipp Club also organises a wading every Wednesday – the perfect opportunity to take your first steps in the pedal pool. The herb garden offers an insight into the variety of tastes of healthy food and the healing effect of the plants, which you can discover during a herbal tour. The spa park's extensive range of activities is all about physical activity and the desire to be active. The multi-generation playground, the scenic path with its 13 stations and a barefoot path train all the senses and get you moving. Boccia, table tennis or badminton on the extensive meadows of the park are particularly sporty. And the right amount of relaxation is also provided: for a cosy afternoon with a good book on the sunbathing lawn or a picnic with a view of the numerous water areas, the attractive spa gardens are also ideal.
The topic of health does not end at the doors of the Hotel am Kurpark: in the physiotherapy practive in our hotel you will find Kneipp treatments as well as an extensive portfolio of additional offers. Please note that a Kneipp cure must always be individually prescribed by your doctor. 

The Kneipp Association also offers various sport courses in our hotel.
If you are interested, just have a look and register via the Kneipp Association:
http://kneippverein-brilon.de/kurse-angebote/
Kneipp days in the Sauerland
from
€ 352.-- 

not found (txt.per.person.short)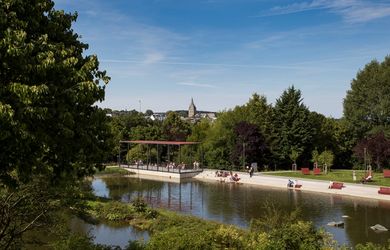 Including the following services:
2 nights
Abundant breakfast buffet with regional products
1 x Aperitif
2x participation in our buffet or 3-course menu in the panorama restaurant
Use of the sauna and pool, bathrobe
1 small gift in your room
Parking
Free WiFi
Not including the local visitor's tax